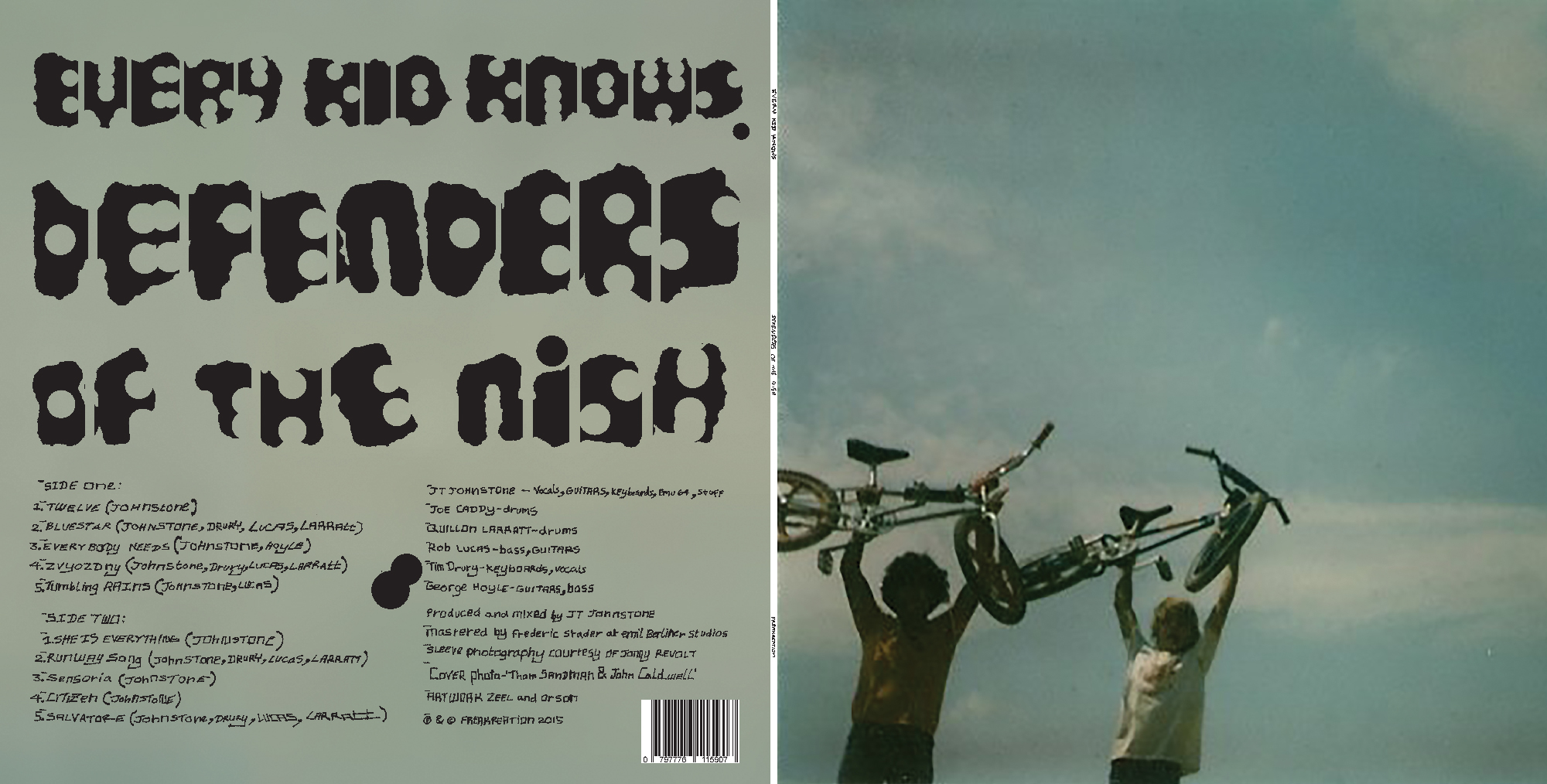 EVERY KID KNOWS | Defenders Of The Nish
RELEASE DATE: 01/12/2016
Available iTunes, Spotify, Amazon etc. (The digital version of this album has now been deleted – the vinyl and cd versions are still out there somewhere!)
Everybody at the speed of light tends to become a nobody. That's the sign of the times.
And Every Kid Knows that.
What's the point in 'making it' – let's un-make it!
Northern lines, rusty nails, hospital playgounds and night trains crossing the border.
We listened back to demos we made on an old battered Mac G4, emu-64 and Tascam 4-track. Late night creations. They were never meant to be songs. They were never meant to be finished. But all that trying had ruined the other stuff. We don't know where our 'home' is.
Let's go back to our bloody knees and BMX dreams – that's 'Twelve'. To the lights shooting through the darkness – that's 'Stars Aflame'. 'Dandelions and Valium' is what happens when you lose yourself in this maelstrom. 'Put your headgear on and I'll take you there'. It's just a matter of time before we're all wearing stupid goggles to work.
We found a polaroid picture of two kids holding up their bikes – original Tusken Raiders. This is us. We were invincible when we were young.
'You young pretenders, keepers of the nought,
the nish, defenders of the sweet fuck-all,
think bigger than your pockets, profiles, health;
better by half to take a sideways view,
take a tip from me and deface yourselves.'
Simon Armitage, 2001
Credits:
Johnstone (Dylan Rippon) – vocals, guitars, keyboards, emu64, stuff
Gregg Braden – drums
George Hoyle – vocals, bass, guitars
Rob Lucas – bass, guitars
Joe Caddy, Quillon Larratt – drums
Tim Drury – vocals, keyboards
Produced and mixed by Dr. Johnstone
Mastered by Frederic Stader at Emil Berliner Studios
Photography courtesy of Jonny Revolt
Artwork by Zeel and Orson
Release Date: December 1st 2016
Available: CD/Vinyl/Digital
everykidknows.com
facebook.com/everykidknows
Press enquiries: +44 (0) 7786 806 464 or info@everykidknows.com
www.herorhymeswithzero.com